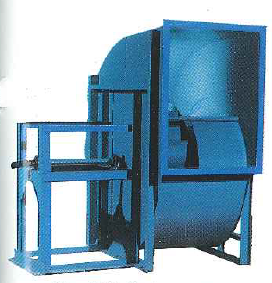 Size 600 AF Airfoil Arr. SWSI CL2 with outlet flange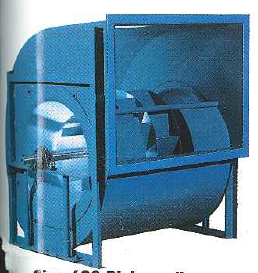 Size 600 BI Airfoil Arr. DWDI CL2 with outlet flange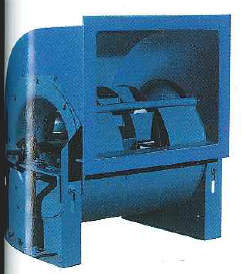 Size 245 BI Airfoil Arr. 3 DWDI CL2 with outlet flange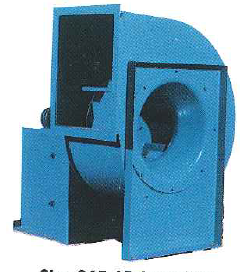 Size 365 AF Airfoil Arr. 1 SWSI CL2 with outlet flange
TYPICAL SPECIFICATION:
Furnish Canada Blower Airfoil, backward inclined (Bl), airfoil (AF) and backward curved (BC) - supply, return and exhaust fans as indicated on drawings and in accordance with the fan schedule. Size 245 to 1200 to be backward inclined and/or airfoil fans with air performance AMCA certified per AMCA Publication 211 and with sound certification per AMCA Publication 311. Size 1320 to 2175 to be backward curved fans and shall be AMCA certified for air performance per AMCA Publication 211. Fans shall be centrifugal type having non-overloading horsepower characteristics. Fans to be constructed of steel and coated with a rust-inhibitating paint primer.
Fan WHEEL diameters are to be in accordance with AMCA Publication 99. Fan wheels to be welded construction using high strength steels. Blades to be welded to the wheel flange and backplate. Wheel hubs to be cast iron or fabricated steel and attached to the backplate. Fan wheel is to be secured to the fan shaft with a key and two set screws.
Fan SHAFT to be solid, cold finished steel, turned ground and polished. First critical shaft speed for Class 1 and 2 to be at least 25% greater than the maximum operating speed and Class 3 first critical shaft speed to be at least 40% greater than the maximum operating speed.
Fan BEARINGS shall have a minimum L-10 life of (20,000, 40,000 or 80.000) hours and/or minimum L-50 life of (100,000, 200,000 or 400,000) hours as defined by ASA and the Anti-Fiction Bearing Manufacturers' Association. Bearings to be foot mounted and either single row ball or double row spherical roller type in a one piece cast iron pillow block, or a double row spherical roller type in a split pillow block. Bearings to rigidly supported on structural steel supports and/or bases.
Fan HOUSING outlet areas to be in accordance with AMCA Publication 99. Fan housing to be constructed of heavy gauge steel with sides and scrolls continuously welded. Housings to be fitted with a spun or die formed inlet cone which is designed to match the fan wheel flange for smooth efficient air flow from the fan inlet to the fan discharge. Fan housing structural members to be designed to allow removal of fan wheel, shaft and bearings without disturbing the structural integrity of the fan housing
The entire fan assembly to be factory RUN TESTED and dynamically BALANCED to not exceed 0.1 inches per second velocity as measured on an IRD or PMC Analizer.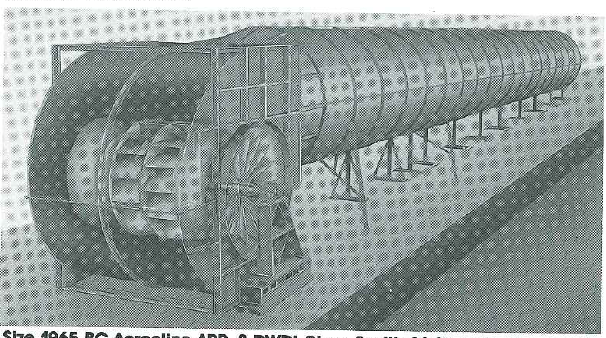 Size 1965 BC Airfoil ARR. 3 DWDI Class 2 with 98.25 inch. dia. wheel and independent pedestals for high horsepower drive. Fan is setup for a full scale performance test in accordance with AMCA 210 Standards in Canada Blower's inhouse AMCA registered test facility.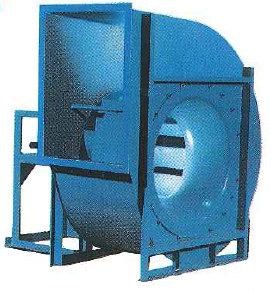 Size 805 AF Airfoil Arr. SWSI CL1 with outlet flange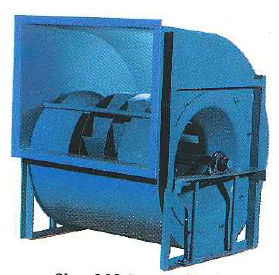 Size 660 BI Airfoil Arr. DWDI CL1 with outlet flange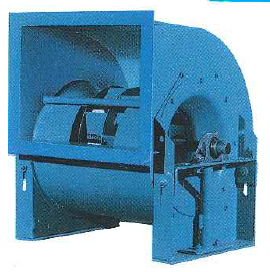 Size 245 BI Airfoil Arr. 3 DWDI CL1 with outlet flange