Types of industrial exhauster wheels available and typical applications
Today's requirements for industrial exhausters demand a fan with high operating efficiency, versatility of applica-tion, rugged construction, and built-in ease of mainte¬nance. "Canada Blower" engineers designed the Canada Blower Industrial Exhauster with these criteria in mind to best satisfy the
Each wheel type has been specifically designed for partic¬ular industrial requirements thus assuring the optimum design for a given application. After fabrication, all
needs of the plant maintenance engineer. This line of quality industrial fans offers the ideal solution to the air moving problems of modern industry and represent the result of over 98 years experience and engineering leader-ship in the manufacture of air handling equipment.
"Canada Blower" wheels are both statically and dynamically bal¬anced to ensure smooth, trouble-free operation.
GRANULAR MATERIALS The ORB wheel is designed for efficient handling of clean air or air containing granular materials; grains, dust, abrasive ex-haust from grinding or buffing operations, and is utilized in corrosive fume removal. The blades welded to the flange and backplate facilities fabrication from special materials or the application of corrosion-resistant coatings necessary for severe operating conditions. Certain metals may require riveted con¬struction. The absence of a spider type construction ensures smooth air flow and accordingly raises the operating efficiency of this fan wheel.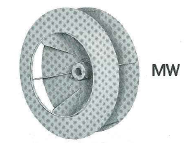 FIBROUS MATERIALS The BP cone wheel is fabricated with a heavy gauge back- plate, but with no front flange. Six radial steel plate blades are welded to the backplate and are reinforced by gussets welded to the blades and the hub. Omission of the flange allows free passage of fibrous materials such as wood shavings, ensilage, paper strips, textile products and other materials which nor-mally tend to clog flanged type wheels. This design wheel with sharpened blades increases the capability of "chopping" fibrous materials as they are fed into the fan.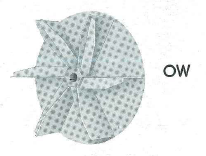 HOT GASES The AU air wheel is custom designed for maximum efficiency while handling hot air, gases, fumes — either clean or containing light concentrations of solid materials. The eight backwardly inclined, die-formed blades are curved slightly to maintain effi¬cient gas flow in the fan.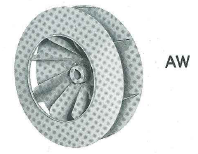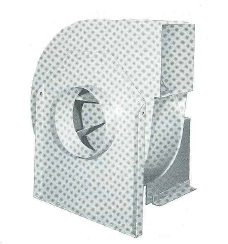 Inlet side. Top horizontal discharge. Counter clockwise rotation.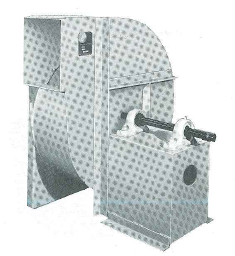 Drive side. Top horizontal discharge. Counter clockwise rotation.
ARRANGEMENT NUMBER 1
This arrangement is universally accepted for general industrial and "hot gas" applications due to its inherent versatility. It can be utilized for direct or V-belt drive depending on job requirements or customer preference. The wheel is overhung on one end of the shaft, while the bearings are mounted on a heavy, fabricated steel base. The fan shaft extends beyond the outer bearing base and has a keyway for installation of sheave or coupling. As in other arrangements, structural rigidity is added to the sub-base by welding heavy gauge gussets to the underside of the sub-base. Such construction ensures permanent alignment of bearings and provides excep¬tional strength for severe duty applications.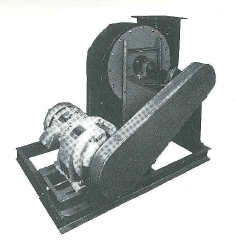 ARRANGEMENT NUMBER 9
For large motor frames, a structural channel sub-base with integral motor slide base can be supplied in lieu of the standard Arr. 9 pivot base shown on page 5. Fan pictured shows fiberglass reinforced polyester construction.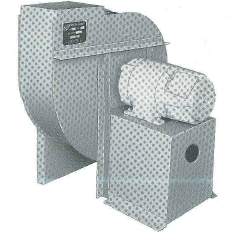 Drive side. Top horizontal discharge. Counter clockwise rotation.
ARRANGEMENT NUMBER 4
This compact arrangement does not require shaft or bearings since the fan wheel is over-hung on the motor shaft. It is ideally suited for operations at normal motor speeds but is limited to temperatures up to 200°F. To compensate for end thrust ball bearing motors must be used.
HOUSING CONSTRUCTION
Canada Blower Exhausters are available in arrangements 1, 4, 8 and 9 plus the "packaged" arrangement #10 described on page 6.
Canada Blower Exhauster construction is heavy gauge fabricated steel consisting of side sheets continuously welded to the scroll.
To facilitate a rigid inlet duct connection, an inlet collar is welded to the side plate and is extended to receive a slip fit connection. Inlet and outlet flanges already welded in place and punched for connection bolts can be supplied upon request. On sizes #70 thru #120, outlet flanges are standard features of construction.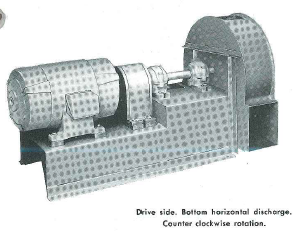 ARRANGEMENT NUMBER 8
This complete factory aligned unit requires minimum drive adjustment when received in the field. It is ready to go on the job immediately. We suggest checking align¬ment before operating unit because of possible damage during transit. The motor sub-base, continuously welded to the bearing sub-base, combined with the flexible coupling connection assures permanent shaft alignment. This configuration is well suited for handling gases at temperatures to 850°F. with the modifications as shown on page 10.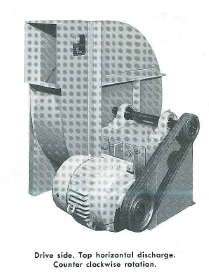 ARRANGEMENT NUMBER 9
Similar to the arrangement #1 fans, this unit features an adjustable motor mount attached to the side of the bear¬ing pedestal. The motor mounting consists of a pivot base assembly which provides rigid motor support assuring perfect sheave alignment, easy method of adjusting belt tension, and minimum field erection. Motors are limited in size, see page 62.
HOUSING CONSTRUCTION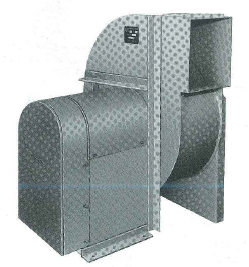 ARRANGEMENT NUMBER 10
Increased demand for complete package units suitable for outdoor installation prompted "Canada Blower" Engineers to design this compact, integral unit. A sheet metal weather hood for motor, bearings and drive protection can be provided to offer maximum weather protection while providing adequate motor cooling. Motor sizes which can be used are limited, see page 62.
OUTSTANDING FEATURES
Quick installation—V belt drive already installed and proper belt tension set at factory.
Easy maintenance—It is a one man operation to change or adjust belts, replace sheaves if speed change is desired, or to service motors or drives. By simply loosening the four nuts which secure the motor to the motor rails, the motor can be raised or lowered.
Space Conservation—Space consumption is reduced to a minimum since motor and drive components are mounted under the bearing sub-base.
Versatility—All arrangement #10 ORB fans are reversible in rotation and adjustable in discharge.
Availability—Special coatings can be supplied depending on job requirements.
Special construction utilizing various metals or heavier gauges available where necessary.
OPTIONAL ACCESSORIES
Flanged inlet and outlet Where fan installations require tight duct connections, inlet and outlet flanges can be supplied welded in place and punched for connection bolts. Flanged outlet is standard for sizes #70 thru #120.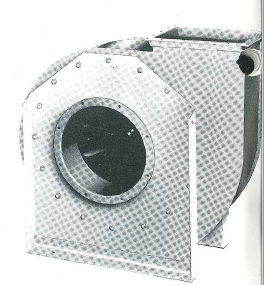 Drain connection
The standard drain connection consists of a threaded pipe cou¬pling welded to the lowest point on the scroll to allow condensate or other liquids to drain. Standard pipe or traps can be easily con¬nected to this drain.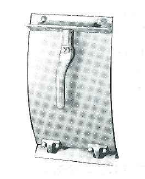 Cleanout door
For easy access to the wheel and housing interior for inspection or cleaning, this quick release door is securely held by refrigerator type latches. The door is shaped to conform with the scroll curv¬ature and is gasketed to minimize gas leakage.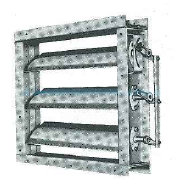 Outlet dampers
Standard outlet damper is fabri-cated in a separate frame and is conveniently flanged for duct con-nection. The blades operate in par-allel and rotate in bearings located outside of air stream. This damper offers satisfactory control of air volume for most applications. For extremely accurate volume control, Canada Blower can offer the opposed blade or proportioning type damper.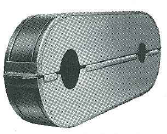 OSHA Belt Guard
Heavy gauge lock form construc-tion provides personnel protection from belts on Arr. #9 and Arr. #10.

OSHA Coupling & Shaft Guards
Features lock-form construction and offers protection from rotating coupling.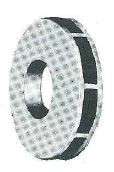 Heat Siinger
This cast aluminum rotor creates a strong circula¬tion of ambient air over the shaft and inboard bearing and also shields bearings from hot gases which may escape through the housing. The heat siinger reduces heat con¬duction from shaft to bearings.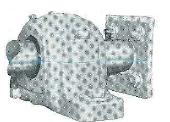 Shaft Seal
Seals are furnished with a removable split cover and are bolted to the housing side limiting the air leakage around the shaft.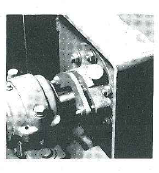 Stuffing Box
Consist of three rows of grafoil packing.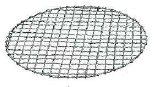 Other Accessories
OSHA inlet screens and OSHA outlet screens are available upon request.
OPTIONAL CONSTRUCTION
Extra Heavy Construction —Where industrial fan applications require the removable of erosive materials in heavy concentrations, "Canada Blower" can provide extra heavy construction in any one of the following combinations: extra heavy housing, extra heavy wheel, and oversize shaft and bearings. Usually oversize shaft and bearings are required when an extra heavy wheel is used.
Special Coatings — Industrial fan applications involving corrosive fume removal require special construction. "Canada Blower" exhauster construction lends itself very well to the application of resistant coatings for this severe duty. The large flat surfaces of the fan wheel offer an. ideal surface for the application of various protective coatings, each suitable for a particular air handling problem. To assure long lasting adhesion of coatings of special paints, interior surfaces of the fan can be sand-blasted, edges rounded and weld nuts or studs replacing nut and bolt type fasteners.
For particularly severe applications, "Canada Blower" can supply fiber glass exhausters or rubber covered fans.
Special Metals — To meet requirements of special applications, such as handling corrosive gases at elevated temperatures, "Canada Blower" industrial fans can be constructed of special metals including aluminum, monel, stainless steel, titanium, hastelloy, or others as may be required.

STANDARD FOR SPARK RESISTANT CONSTRUCTION
Where the danger of explosion exists, Canada Blower exhausters can be con¬structed to meet AMCA standards for type A, B or C spark resistant construction. Consideration should also be given to the use of explosion proof motors and for spark resistant V-drive belts in such applications.
Type
Construction
a
All parts of the fan in contact with the air or gas being
handled shall be made of non-ferrous material.
b
The fan shall have an entirely
non-ferrous wheel and non-ferrous ring about the opening through which the
shaft passes.
c
The fan shall be so constructed that a
shift of the wheel or shaft will not permit two ferrous parts of fan to rub or
strike.
HOT GAS EXHAUSTERS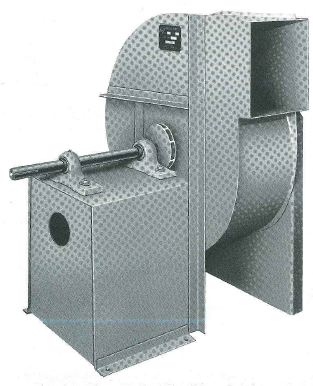 Ideally suited for hot gas applications these exhausters are constructed ac-cording to the operating temperatures as follows:
Standard construction is suitable for temperatures to 200°F.
Construction 350 and 700 — 200° F to 700° F grease lubricated roller bearings and cast aluminum heat slinger furnished.
Construction 850 — 700° F to 850° F same as 700 except bearing sub-base is separate from fan.
Note: Arrangement #4 fans are restricted to 200°F operation.
Arrangement #9 fans with pivot base are limited to 350°F. Arrangement #9 fans with channel base up to 850° F.
Arrangement #10 fans are limited to 350° F.
ELEVATED TEMPERATURE APPLICATION GUIDE
| TEMP. OF AIR OR GAS AS IT PASSES THRU FAN | TYPE OF BEARING | LUBRICATION | FAN CONST. | RECOMMENDED FAN ARRANGEMENT |
| --- | --- | --- | --- | --- |
| 50-200 *F | Ball or Roller | Grease | Standard | 1,4,8,9,10 |
| 200-350*F | Roller | Grease | Heat Slinger | 1,8,9,10 |
| 350-700*F | Roller | Grease | Heat Slinger | 1,8,9 chan |
| 700-850 *F | Roller | Grease | Heat Slinger and separate Sub-base | 1,8,9 |
SALES REPRESENTATIVES
ALBANY, NY
ALBUQUERQUE, NM
ALLENTOWN, PA
ATLANTA, GA
BALTIMORE (SEVERNA PARK), MD
BIRMINGHAM, AL
BOSTON (WAKEFIELD), MA
(ORCHARD PARK)
CHICAGO (WHEELING), IL
CINCINNATI, OH
CLEVLAND (WESTLAKE), OH
COLUMBUS, OH
DALLAS (RICHARDSON), TX
DENVER (ENGLEWOOD),CO
DES MOINES, LA
DETROID (FARMINGTON HILS), MI
FLORIDA (MIAMI), FL
(TAMPA)
(JACKSONVILLE)
GREENSBORO, NC
GREENVILLE, SC
HARTFORD (SIMSBURY), CT
HOUSTON, TX
INDIANAPOLIS, IN
KANSAS CITY, MO
KNOXVILLE, TN
LOS ANGELES (SANTA FE SPRINGS), CA
LOUSVILLE, KY
MEMPHIS, TN
MILWAYKEE (WAUKESHA), WI
MINNEAPOLIS (EDINA), MN
NASHVILLE, TN
NEW ORLEANS, LA
NEW YORK (E. NORWALK),CT
NORTHEN NEW JERSEY (SOMERVILLE), NJ
OKLAHOMA CITY, OK
PHILADELPHIA (PAOLI), PA
PHILADELPHIA (PAOLI), PA
PHOENIX, AZ
PITTSBURGH, PA
RICHMOND, VA
ROCHERSTER, NY
ST. LOUIS, MO
SALT LAKE CITY, UT
SAN ANTONIO (NEW BRAUNFELS), TX
SAN FRANCISCO (FOSTER CITY)
SEATTLE (BELLEVUE), WA
SYRACUSE (SOLVAY), NY
TOLEDO (PERRYSBURG),OH
TUSLA, OK
WASHINGTON, D.C.
(ROCKVILLE, DM)
(FAIRFAX, VA)
In Canada:
CALGARY, ALTA.
EDMONTON, ALTA.
HAMILTON, ONT.
KITCHENER, ONT.
MONTREAL, QUE.
OTTAWA, ONT.
SAINT JOHN, N.B.
SARNIA, ONT.
SASKATOON, TASK.
SUDBURY, ONT.
TORONTO, ONT.
VANCUVER, B.C.
WINNIPEG, MAN.
In Mexico:
GUADALAJARA, JAL.
MEXICO CITY, D.F.
MONTERREY, N.L.
OTHER Canada Blower INDUSTRIAL FANS AND BLOWERS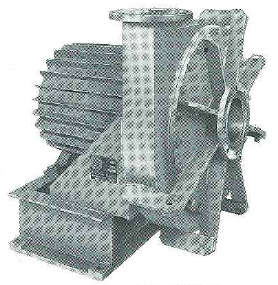 R PRESSURE BLOWERS Type "R" Heavy Duty Pressure Blowers are custom engineered ver-sions of a Type "CB." Modifications are based on operating conditions involving temperature extremes, corrosives, erosives and higher pres¬sures. Type"R"and Type "CB" Pressure Blowers are computer-selected to meet system require¬ments.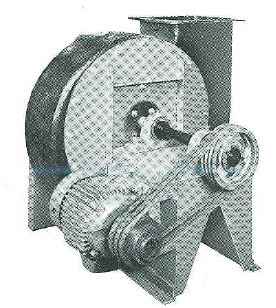 FRPEXHAUSTERS These fiberglass reinforced plas¬tic exhausters provide excellent corrosion resistance, with the operating efficiency of a proven fan design. Capacities from 300 cfm to 43,000 cfm. Static pres¬sures to 20" W.G.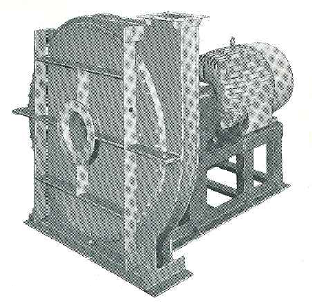 CB PRESSURE BLOWERS Designed for the process indus¬tries, CB Pressure Blowers deliver high pressure (to 5 psig) at mod¬erate volume (to 100,000 cfm). Rugged construction provides a long service life on a variety of demanding applications includ¬ing pneumatic conveying, glass blowing, gasboosting and airpol- lution control systems.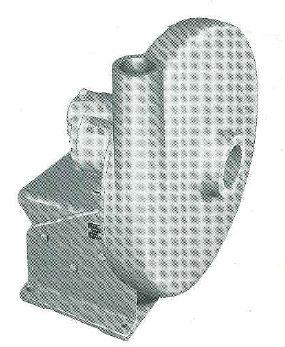 RE BLOWERS Similar to "E" Blowers, the RE has a cast iron housing which is often better suited to cer¬tain corrosive or erosive applica-tions. Fabricated steel housings are also available. Ca-pacities from 50 cfm to 1600 cfm at static pressures to 45.5" W.G.' Bulletin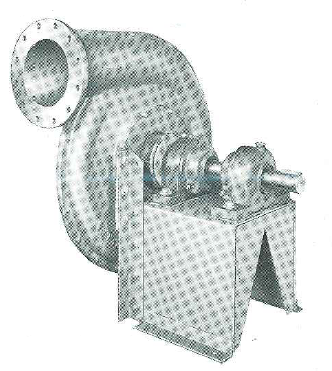 E BLOWERS A compact, reliable blower designed to handle a variety of industrial applications requiring moderate capacities at high pres¬sure. The "E" Blower has a cast iron or fabricated steel housing. Capacities from 50 cfm to 12,000 cfm at static pressures to 80" W.G.
HIGH PRESSURE TYPE "HW" INDUSTRIAL EXHAUSTERS
Canada Blower "HW" High Pressure Industrial Exhausters are designed for air or gas moving applications with capacity requirements from 1,500 cfm to 27,000 cfm in a pressure range from 20" W.G. to 40" W.G., in 8 unit sizes.
The "HW" is a rugged, heavy duty exhauster, pre-engineered with regard to ratings and construction detail. They are economical and require minimum delivery time. This product is based on over 100 years of Canada Blower leadership in designing and manufacturing industrial fans, and application expertise is readily available from a Canada Blower Sales Engineer.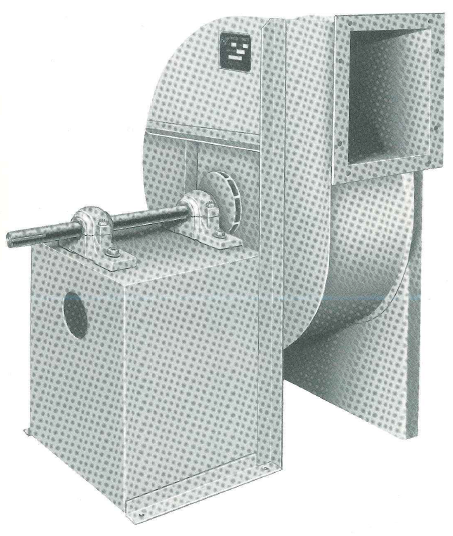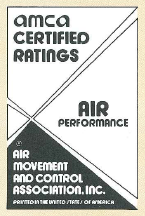 Canada Blower certifies that the "HW" fans shown herein are licensed to bear the AMCA seal. The ratings shown are based on tests made in accordance with AMCA Standard 210 and comply with the requirements of the AMCA Certified Rating Program.
| INDEX | PAGE |
| --- | --- |
| Introduction | 2 |
| Arrangements | 3 |
| Wheel | 4 |
| Housing/Bearing Stands | 5 |
| Optional Accessories | 6 |
| Optional Construction | 6 |
| Rating Tables | 7-14 |
| Dimensional Data | 15 |
HIGH PRESSURE TYPE "HW" INDUSTRIAL EXHAUSTERS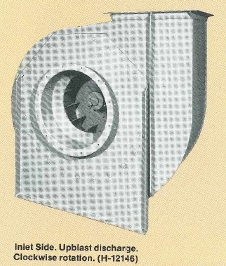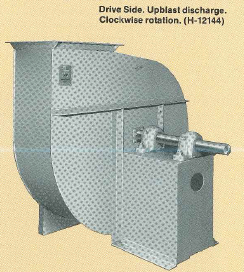 This is the most widely used arrangement for the majority of general industrial air and hot gas applica-tions. The wheel is overhung on one end of the shaft while the bearings are supported on a heavy gauge steel base. The fan shaft extends beyond the bearing base and has a key way for installation of a sheave or coupling. Arrangement 1 Exhausters can be direct or V-belt driven.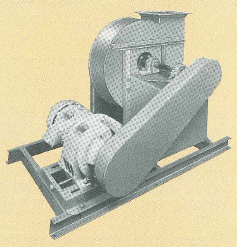 ARRANGEMENT NUMBER 9 The "HW" arrangement 9 is furnished with a structural channel sub-base having an adjustable motor frames.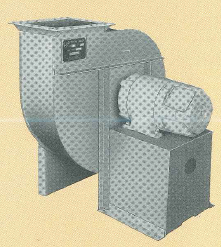 ARRANGEMENT NUMBER 4 The compact arrangement 4 can be used when the required rating can be attained at a direct connected motor speed, when the air or gas temperatures do not exceed 200° F. The wheel is overhung on the motor shaft and normally, motors of this size have anti¬friction bearing construction.
HIGH PRESSURE TYPE "HW" INDUSTRIAL EXHAUSTERS
"HW" fan housings are fabricated from heavy gauge sheet steel. They are continuously welded and reinforced with structural angles and bar stock to form a rigid structure.
The bearing bases and motor bases are fabricated from heavy gauge sheet steel. This assures a vibration-free sup¬port for the shaft and bearings, or motors, and further con¬tributes to the overall ruggedness of a Canada Blower "HW" Exhauster. The unit operates well below the first critical speed with the shaft being mounted on heavy duty anti-friction bearings selected for a minimum B-10 life of 30,000 hours at maximum conditions.
Standard features include flanged inlet and outlet connec¬tions, shaft seal, a gasketed removable inlet side plate to facilitate wheel removal, and a streamlined inlet cone.