frp
FIBERGLASS
Lighter in weight and less costly than "special" metals, they afford a high degree of protection from corrosive fumes responsible for premature failure in metal, rubber lined and protective coated fans. They are ideal for horizontal or vertical installation in interior ductwork and require a minimum of space. Units are sparktested prior to shipment to assure complete corrosion protection. Capacities from 2000 CFM to 100,000 CFM . . . static pressures to 3". Ask for bulletin F-305A for additional information.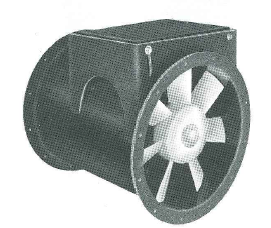 FRP Axial fan from entering air side. Durable predrilled inlet and outlet flanges are integrally molded into the housing.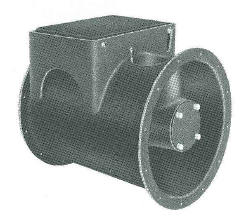 FRP Axial Fan from discharge air side. The FRP inner cylinder and protective belt fairing are integrally molded to fan housing and sealed to protect shaft and bearings.
axial fans
EFFECTIVE SPACE SAVERS IN DUCT SYSTEM INSTALLATIONS WHERE CORROSION IS A PROBLEM
VANE AXIALS (FRPVA) have molded FRP curved discharge vanes bonded between the inner cylinder and outer casing for maximum fan efficiency, quiet operation and rugged construction
TUBE AXIALS (FRPTA) have extra thick FRP straight discharge vanes serving as struts between the inner cylinder and outer casing.
HOUSING — Solid Fiberglass Reinforced Plastic (FRP) construction with integrally bonded FRP flanges, protective belt fairing and inner bearing cylinder. Bearing cylinder has neoprene gasketed removable FRP end covers held in place with stainless steel bolts and nylon acorn nuts and easily removed for adjustment of fan sheave or bearing replacement.
STANDARD WHEELS — On all sizes from 15"through 36" the wheel is a one piece fiberglass reinforced molded epoxy wheel duplicating our cast aluminum type "MB" wheel. On sizes 42" through 60", the basic wheel is a standard steel "MB" wheel encapsulated with FRP. The performance of these wheels is identical to standard Type "B" Axial Flow Fans.
ALTERNATE WHEELS — Design 80, 65 or 50 NV wheels have a cast malleable (15" through 42") or cast steel (48" and 54") spider encapsulated with FRP molded blades bolted and bonded to encapsulated spider can be furnished on all sizes.